In the era of abundance, consumer attention is the most valuable commodity – a precious yet finite one. With infinite brands battling it out for the same resource, even the most enticing advertisement language may fail to inspire user action.
The advertising industry is at a crossroads (for a while now!).
Traditional ad formats have their place, but in a world saturated with content, they blend into the background. Plus, we've transitioned beyond a time where ad visibility equaled attention and recall. Today, each advertisement is a fleeting moment, struggling for relevance amid a barrage of content. There's a dire need to think outside the boxes and banners and to create campaigns that are not just seen but truly noticed.

As we stand at this juncture, the choice is clear: rise above the clutter or settle for mediocre ads that may or may not be seen.

The Need to Look Beyond Static Ads

In the era of personalization, the limitations of static ads become all too evident: they fail to meet the diverse immediate needs of users. Naturally, they lack the adaptability to evolve and genuinely engage with the dynamic preferences of consumers. The call for change is undeniable. We need ad formats that capture not only genuine interest but also spark authentic interactions.

All that changes with rich-media ads, combining e.g. video with multiple static/dynamic messages, based on advanced code such as HTML5 or MRAID.

These ads don't just cater to individual preferences; they thrive on real-time relevance. By dynamically adjusting content based on user behaviors, they drive engagement, prompting users to take the desired actions.

Hybrid Ads: Built for Conversion 
One such exemplary application of rich-media ads is what we call at RevX, Hybrid Ads. These ad formats seamlessly merge multiple file types (static, video, audio, and animation elements), creating dynamic ads that stand out from the rest. Our team leverages HTML 5, CSS, and JS to drive dynamicity while also using machine learning to drive personalized product recommendations.

By design, it's crafted for enhanced engagement and conversion, allowing brands to tell impactful stories that resonate.

What does this mean for your app?
Increased recall and memorability

: With hybrid ads, you have a captivating canvas showcasing your brand message with the depth it deserves.

 

Enhanced engagement and conversion

: Hybrid ads have a prominently placed CTA segment which guides users to take desired actions, leading to higher click-through rates and improved campaign performance.

Video production made easy

: Bid farewell to the complexities of video production. Hybrid ads offer comparable or better conversion rates without the resource-intensive video production process.

Personalization at scale: Combined with dynamic elements,  hybrid ads are driven by machine learning to show each user segment the most relevant ad based on behavioral data.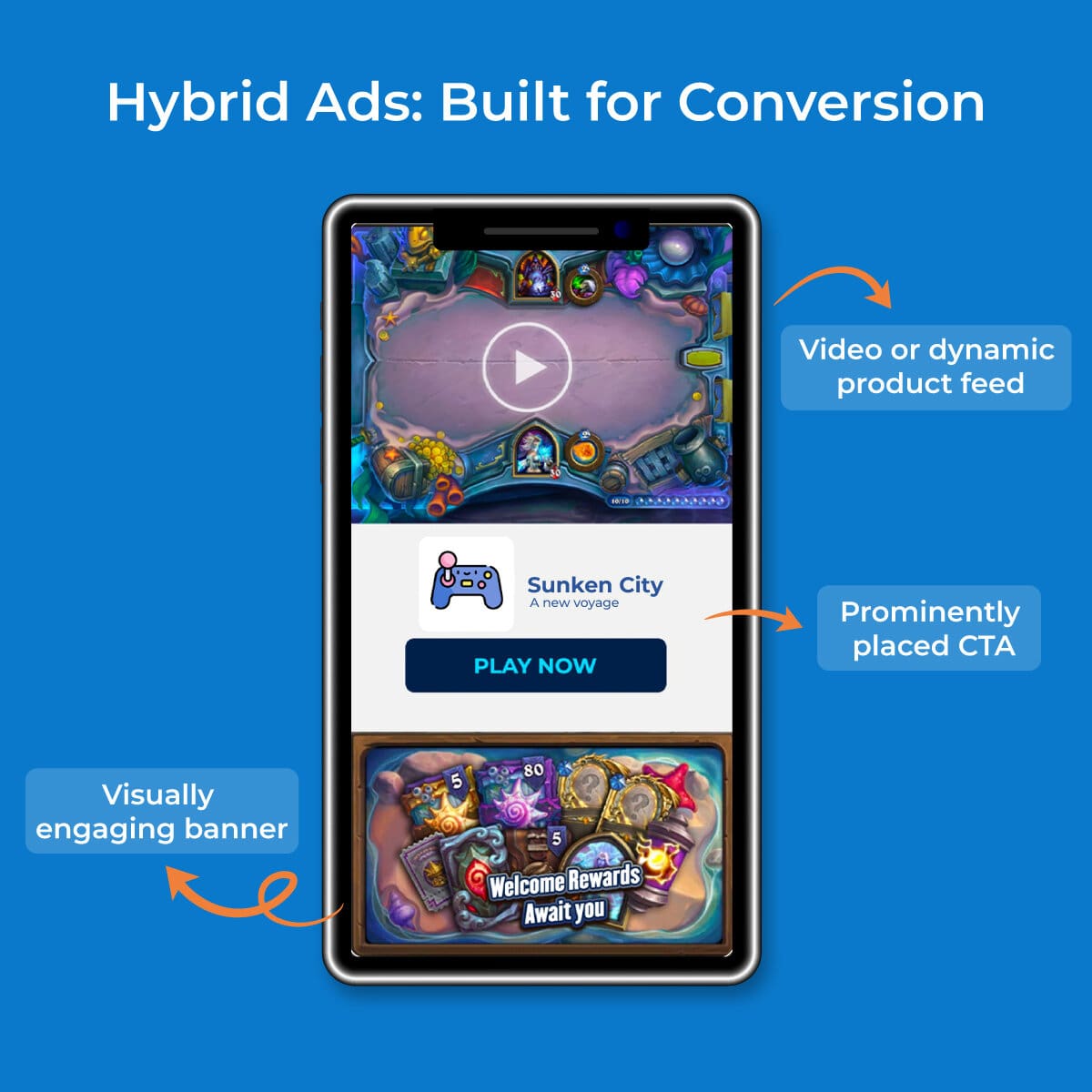 For instance, for eCommerce, imagine showcasing your products in action, like a virtual shopping experience.

A potential customer browsing for sneakers is suddenly treated to a visually dynamic ad that showcases a 360-degree view of the sneakers, along with a banner that highlights a dynamic price, offer, and CTA.
This experience stands out from the rest and compels action.


The Benefits of Video and the Simplicity of Banner Ads
Video ads are an indispensable tool in every app marketer's arsenal. Yet, the process of creating and optimizing them is a resource-intensive process.
Hybrid ads provide the optimal way to spark curiosity, engagement, and conversions with just a fraction of the effort. These ads harness the power of video without the need for extensive production efforts.

Through smart automation, it generates numerous iterations from a single template. This means you can repurpose your existing assets, infuse them with dynamic elements, and effortlessly create video-like experiences that captivate your audience without the hassle.

Unlocking Massive Inventory Scale
Hybrid ads are a gateway to a wider range of inventory sources. They combine videos and banners in one ad, allowing seamless placement across different ad sizes. At RevX, our design research has reached new heights with the innovation of optimal ratio layouts. These combine videos and banners in a single ad, complete with dedicated CTA buttons.   

This innovation enables videos to work on nearly all available inventory sizes, allowing repurposing of creatives across sizes. The ability to fit multiple formats translates to significant time and resource savings. No more designing multiple versions for each platform. In essence, it amplifies your reach while streamlining your creative process. This convergence of scalability and optimization ensures that your message resonates far and wide, driving higher CTRS, conversion rates, and ultimately app growth.

Driving Hyper-personalized Experiences 

With the power of user data and product feed integration, hybrid ads deliver personalized ads that speak directly to individual preferences and needs. Our cutting-edge algorithms dive deep into user data, preferences, and behaviors and these insights are used to fuel the hybrid ad templates. The result is tailor-made ads for every user segment, resonating with each user on a personal level. And it doesn't stop there!
At the end of hybrid videos, we have enabled Dynamic Creative Optimization (DCO) end cards.
Powered by your app's product feed, your ad can now show personalized products after a video, each with its own dedicated CTA buttons and destinations. Additionally, by using multiple links within hybrid ads, advertisers can gather valuable data on user interactions, such as clicks on specific elements or calls to action. This empowers advertisers to allocate resources more effectively, driving better campaign results.

In Conclusion
In the era of personalized experiences, hybrid ads bridge the gap between
static and dynamic, catering to the nuanced needs of modern users. Embrace this innovation, and watch as your brand recall and conversion take flight, leaving lasting impressions that resonate beyond the screen.

Martje Abeldt, CEO of RevX, is a multilingual technophile and an expert in mobile strategy, marketing, and technology. Martje has led and inspired multinational teams in the fields of ad tech, IT, mobile, high-end consumer goods and SaaS for over twenty years. With his vast experience, unique expertise, and a coherent vision for the industry, he is a key figure in the mobile growth sector.