It's the busiest season of the year for Indonesian app marketers.
The holy month of Ramadan is nearing, and it's no surprise that the country with the largest Muslim population is in for a major spending season.

These festivities vastly influence how consumers spend their time and money. For app marketers, it's an opportunity to deliver valuable and delightful experiences and drive incremental revenue. In this blog, we look at app usage trends, and spending habits, and share recommendations on how you can maximize your app growth. 

App Usage Behavior and Trends:

With 7.7 billion installs, Indonesia is the world's 5th largest mobile market. (by downloads) According to data from Adjust and Appsflyer, there's a sharp increase in shopping, streaming, digital payments, and gaming activities among users celebrating Ramadan in Indonesia.

With its ease, growing familiarity, and great app-only discounts, a higher number of users this year will turn to apps for their Ramadan needs.Indonesian users have been highly digital-savvy, especially in mobile eCommerce and digital payment for years. However, with Covid restrictions lifted this year, there might be an inclination towards offline purchasing as well.

" Ramadan in Indonesia presents a prime opportunity for e-commerce players to capitalize on changing consumer shopping patterns, as more shoppers turn to online channels for their Ramadan needs. To succeed, e-commerce apps must leverage user data, app intelligence, and intelligent retargeting tactics. This paves the path for superior personalization ranging from product recommendations to deals and promotions, aligned with the Ramadan shoppers unique needs.

This helps companies drive a significant sales lift and secure a lasting competitive advantage in this rapidly evolving market."
– Nonika Kapoor, Business Head, INSEA 


Shopping apps: The past two Ramadan celebrations were curtailed due to Covid restrictions.
This year, despite the economic uncertainty, consumer sentiments are positive with a vast majority expected to indulge in planned shopping. The sentiments are strengthened by statistics from the previous year. Indonesia saw the highest e-commerce in-app revenue growth at 33% during 2022 Ramadan. (Adjust)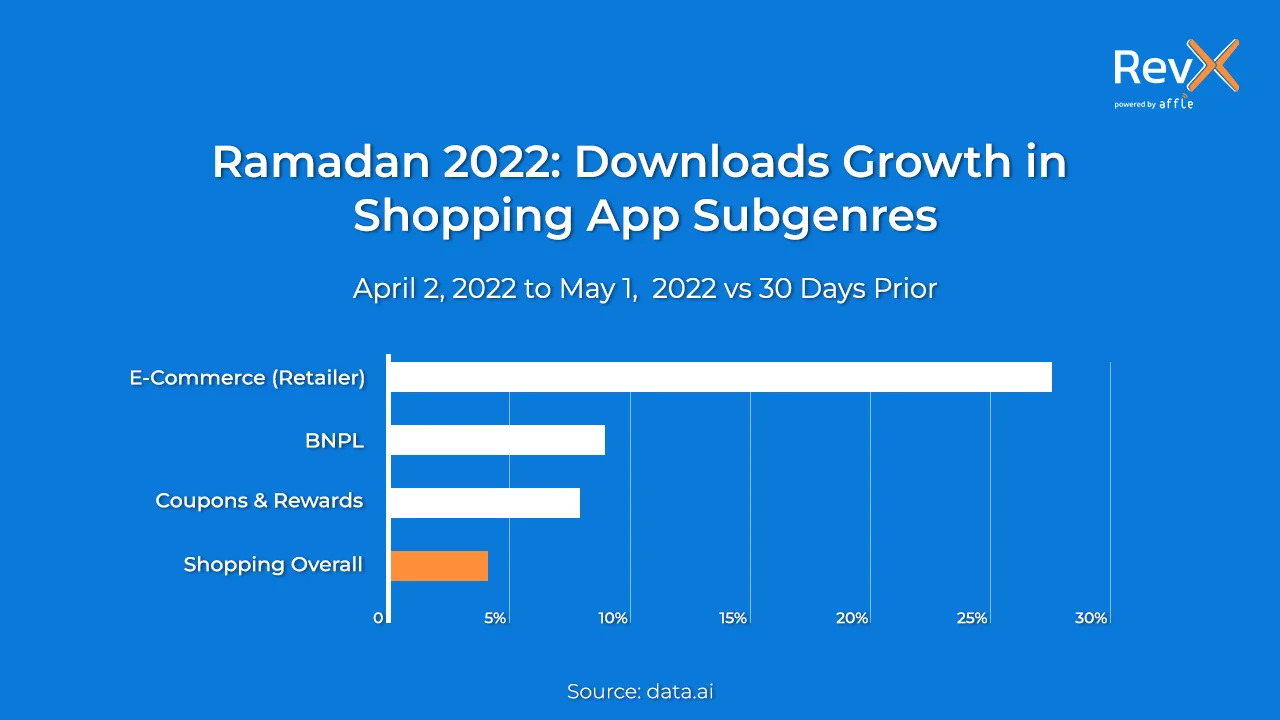 Entertainment apps: With more family time, entertainment and streaming apps see a sharp increase in activity and in-app purchases. Entertainment apps, along with eCommerce saw an impressive increase in revenue during Q2 2022 with Indonesia seeing an in-app revenue spike of 44%. (Adjust)

Finance apps: A core tenet of Ramadan is the spirit of giving. During the holy month, people donate
alms to the needy and make charitable contributions. Their leading choice of payment is
fintech apps. Research shows that digital wallets (e-wallets) are more widely used by Indonesians during Ramadan. ( ShopeePay and Jakpat Mobile Survey)

The reasons being:
– A majority of the population spends time at home
– cashback and discounts provided by e-wallets
– convenience and growing trust in fintech

Gaming apps: With enough leisure time at hand, gaming apps witness increased installs, daily sessions, and in-app purchases. As workers return to their hometowns for their break, they are also more responsive to gaming remarketing campaigns.  (AppsFlyer)

Other consumption trends:

As the fasting period starts, people's everyday lives see different schedules and for apps, that means different usage patterns. For eg; with people rising up earlier than usual to prepare for the fasting, app sessions spike up earlier in the day.

One app category that sees significant usage is religious apps. Both in terms of installs and daily sessions, religious and prayer apps see big spikes throughout Ramadan. While Ramadan is primarily about fasting, it's also about bonding over traditional food. F&B and recipe apps naturally see an increase in usage. Data from leading food delivery apps
confirm the spike in orders post-dusk during Ramadan. App user behavior is unique with high usage among social and entertainment apps in the evening /night time.


Specific Campaigns for Each Phase of Ramadan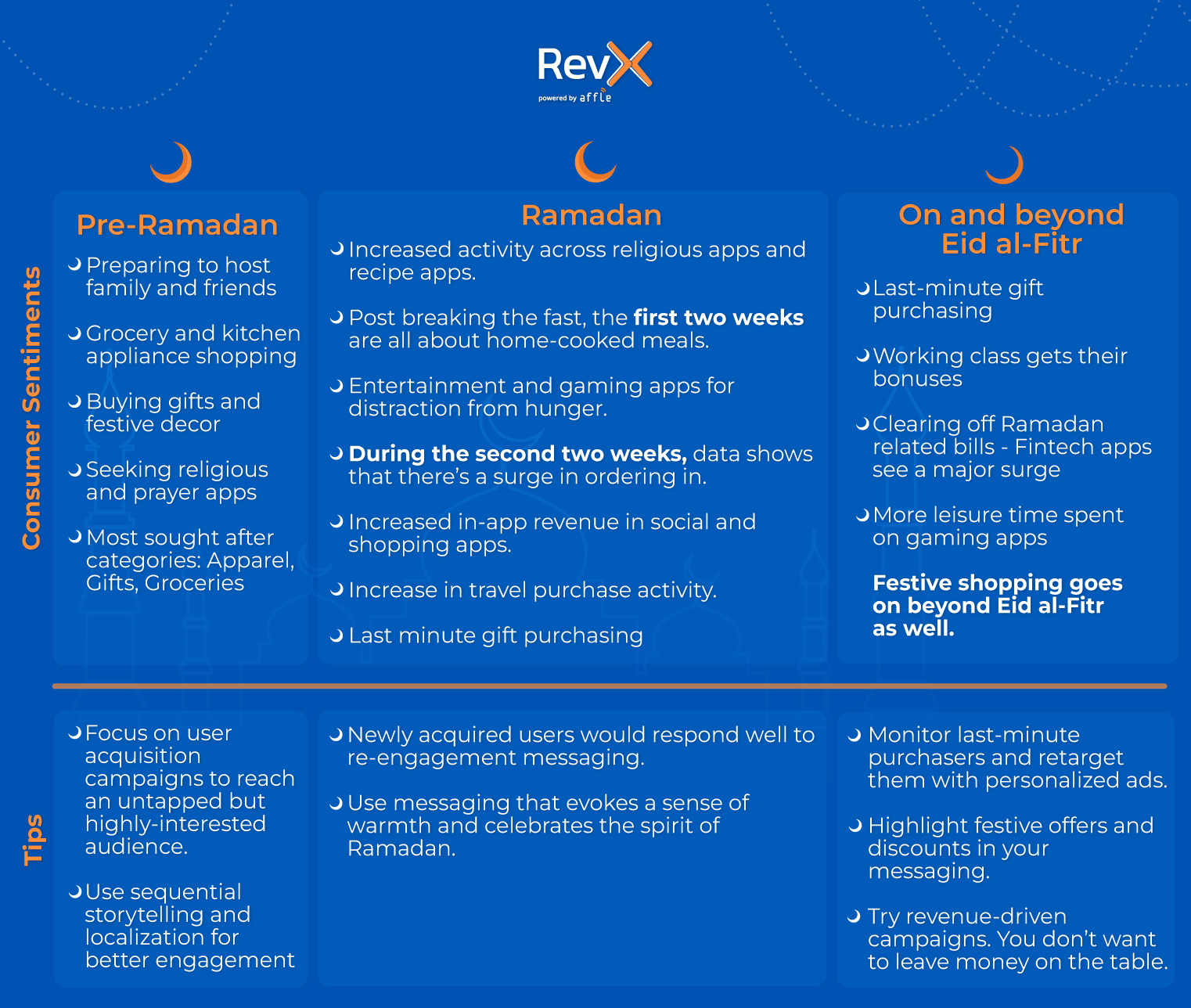 Data source: AppsFlyer and Adjust

Making the Most of This Season: Recommendations

Audience Segmentation for powerful retargeting results. App retargeting is about showing ads that are hyper-relevant to the user at a given moment. This begins with a precise audience segmentation strategy. Analyze behavioral data to revise your audience segmentation strategy for the festive season. In programmatic advertising, RFM analysis allows for segmentation based on three important in-app behaviors; recency, frequency, and monetary value. At a broad level, you can do segmentation based on:
– High-uplift Potential Users: highly engaged users who can be nudged to spend more.
– Frequent Spenders: Repeat purchasers who are willing to continue.
– Leaky Buckets: fast-churning users.

For shopping apps, it's useful to have segments like 'brand lovers', 'explorers', 'last-minute purchasers', and 'discount-driven users.' 

Develop a Comprehensive Ad Communication Plan 

– Understand the purchase intent: For compelling brand communication, you must know your users' hearts which is what drives a lot of purchasing decisions. For eg, for eCommerce and shopping apps, it's crucial to understand who their users are buying for. People could be buying for their family, themselves, people in need, their house help, and also their neighbors. These insights can then be used for personalized messaging to drive higher conversions.

– Leverage ad creative formats: During the festive season, every brand is trying to be heard and seen. Use innovative ad formats like DCO ads and hybrid ads to deliver highly personalized and engaging ads to each user.

– Celebrate the essence of the festival: Ramadan is a sacred festival that's about spiritual reflection, determination, and the spirit of giving. Write powerful and engaging ad copies that genuinely celebrate the essence of Ramadan. Also, incorporate references around local traditions and customs in your messaging.

Your campaigns' success depends on the quality of your user data, ad inventories, messaging, and creative strategy, and ultimately your ad partner. Let RevX help you succeed this Ramadan.
Learn more: revx.io
Shreelaxmi PB