The IPL season is upon us; a phenomenon that captures the entire nation's eyeballs, hearts, and wallets. The Indian Premier League is a cricket festival in its own right. One of the most successful cricket leagues in the world, it attracts millions of fans from India and overseas. As much as it is about sports and entertainment, it's a huge spending season for mobile apps in India.

It's an opportunity to increase brand awareness, drive new acquisitions, and enhance app growth. In this blog, we talk about app usage trends and the best practices to maximize your IPL campaigns' performance.

Indian Premier League: A Playground for Every App  

With a massive viewership base, IPL results in a major surge in mobile usage every year. Fans turn to their smartphones to watch live matches, play fantasy cricket games, engage on social media, consume IPL-related content, and more. Most importantly, it attracts audience segments ranging from youngsters and serious sports enthusiasts to middle-aged adults and casual viewers. This means that there are branding and growth opportunities for every app. 

App Usage Trends Across Categories
In 2022, 65% of the viewers watched IPL through television and 29% through digital platforms. (India Consumer Sentiment Index) This marks a big drop in the TV viewership base in comparison to 2021. With more fans embracing OTT in their daily lives, this significant shift towards digital viewing is not surprising.

What does this mean for app usage?

🔹 eCommerce:
-eCommerce apps see an increased install activity in the IPL preseason.
– Non-organic installs see a big surge during this season, a nearly 60% increase compared to any other IPL week. With major quick commerce and eCommerce apps rolling out big-budget campaigns, this increase in installs is natural.
🔹 Entertainment:
– Entertainment apps witnessed a nearly 50% increase in installs during the pre-season.
– The share of paying users was slow during the pre-season but sees an upward trajectory, reaching its peak in the post-season.
This can be attributed to users being more open toward spending on Real Money and Streaming apps as playoff excitement reach a climax.
– Non-organic installs reach their peak during the second season and the beginning of the playoffs.
– The share of paying users for Entertainment apps skyrocketed to 4.5 times higher in June compared with February.
🔹 Gaming:

– Gaming apps see a consistent rise in installs except for the decline towards the end of the season. This is likely due to the drop-off in the number of teams.
– Non-organic installs see a steady increase throughout the season, spilling into the post-season driven by post-IPL gaming events.
– Specifically, fantasy cricket games and real-money games see a massive surge in usage, installation, and retention.
– With real-money gaming activity peaking, there's an increase in in-app purchases as users carry out purchase activities. In April, it sees a minor dip, which picks up
right in time for the post-season.

🔹Food and Drinks:
– Food Delivery is one category that knows how to ride the IPL wave. With special promo codes and gamification on their apps, food delivery apps see an increase in non-organic installs and daily sessions. (RevX)
– Nearly a third of all Food & Drink installs happened in the last five weeks of IPL 2022. It also experienced a boost in retention from March to May.

The above data points are taken from Appsflyer and MoEngage's IPL 2023 report. ( The data is based on the performance reports from 2022.)

App Retargeting to Move the Needle 

App retargeting during IPL is an incredibly valuable tool for app marketers.
It's a playground not just for cricketers but also for marketers wanting to maximize engagement and retention.
It presents golden opportunities for brands to create a stronger connection with their users, ultimately leading to increased engagement, higher retention rates, and better revenue.
Here's some insights and recommendations for shopping, gaming, and entertainment categories.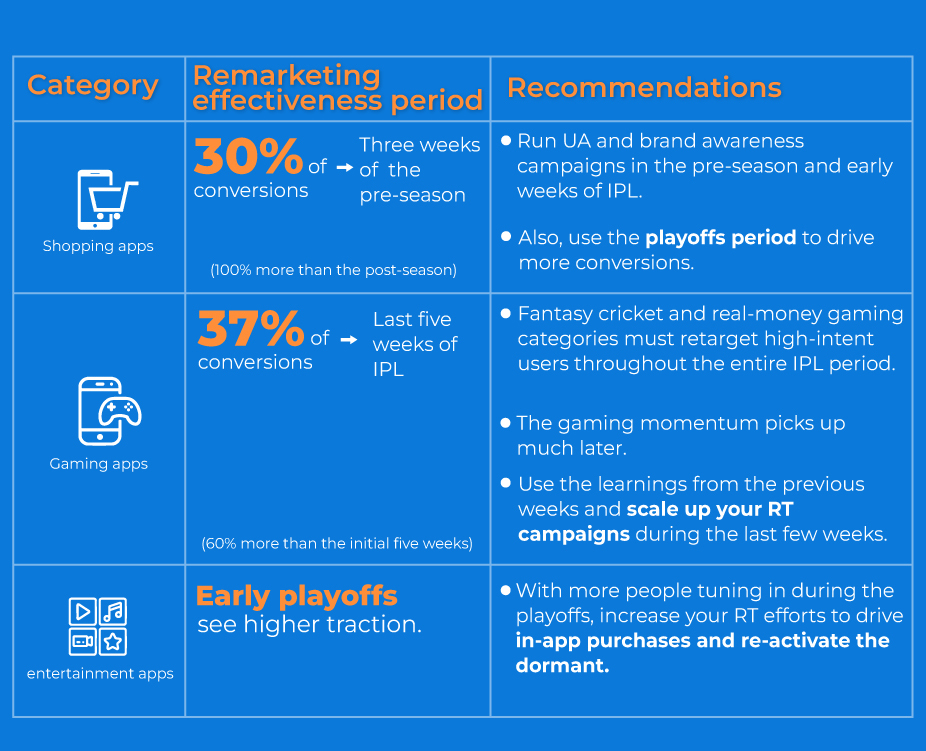 Data source: AppsFlyer and MoEngage, IPL Report 2023
Reports from Appsflyer and other sources confirm that brands adopting remarketing during IPL see far better retention rates than those not.
It's important to remember that user acquisition campaigns can only take you so far.
To make the most of this new-found momentum, one must devise a solid retargeting plan to engage and retain users during the entire IPL period and beyond.

Insights from our Senior Account Manager  

Devanshi, our Senior Account Manager shares recommendations on maximizing your IPL campaign's performance:
🔹 Run both User Acquisition and Brand Building Campaigns:  It's the perfect time to start branding and new user acquisition campaigns. With more people turning     towards digital viewing, users are, by default, active during this time. Make use of this momentum by delivering memorable ad experiences and offers.
🔹 Run offer-based creatives and campaigns: This tried-and-tested strategy works very well for gaming, food delivery, and entertainment. Offer discount coupons and game-play coins but don't stop there; get creative with IPL-related activities and offers.
🔹 Lock your target on high-intent users:
For example, target those users who have already created a team on the fantasy cricket app and are a step closer to getting converted as compared to a user who has simply installed the app. Or in the case of shopping apps, develop a personalized strategy to target add-to-cart or product-view users.
🔹 Reactivate the Dormant – It's a good time to re-target your inactive/lost or dormant users. They are much likelier to be active on the app and get converted.
🔹 Leverage the benefits of day-parting:
 – Use the day-parting method to run campaigns specifically during the peak match hours and just before the start of the match. We have seen this working wonders for our clients. 
 – Also, scale up campaigns during important team match days. We have noticed performance spikes during famous team match days (Chennai, Mumbai, Bangalore teams) as       compared to lesser popular teams or new entrants.
 – The beginning of the playoffs is another period that sees major spikes. With only a few brands advertising at this point, it's a great low-cost opportunity to advertise.
Closing Remarks
The Indian Premier League has consistently been a high-profile event with
brands pouring big budgets into advertising. It's a time of undivided attention that can easily be capitalized. Use the above learnings and define the best ways (communication, creative strategy, channels) to reach different audience segments.
Remember the peak-end rule; it's not just about the scale of your campaigns and the results but also about how your users experience it. People remember an experience based on how they feel at its peak and end rather than the overall average. Keep this in mind while devising your campaign strategies. By scaling up your campaigns during more memorable periods of the IPL, you can create peak moments and leave a lasting impression on your target audience.
Remember, it's not always the quantity but the quality of the experience that counts.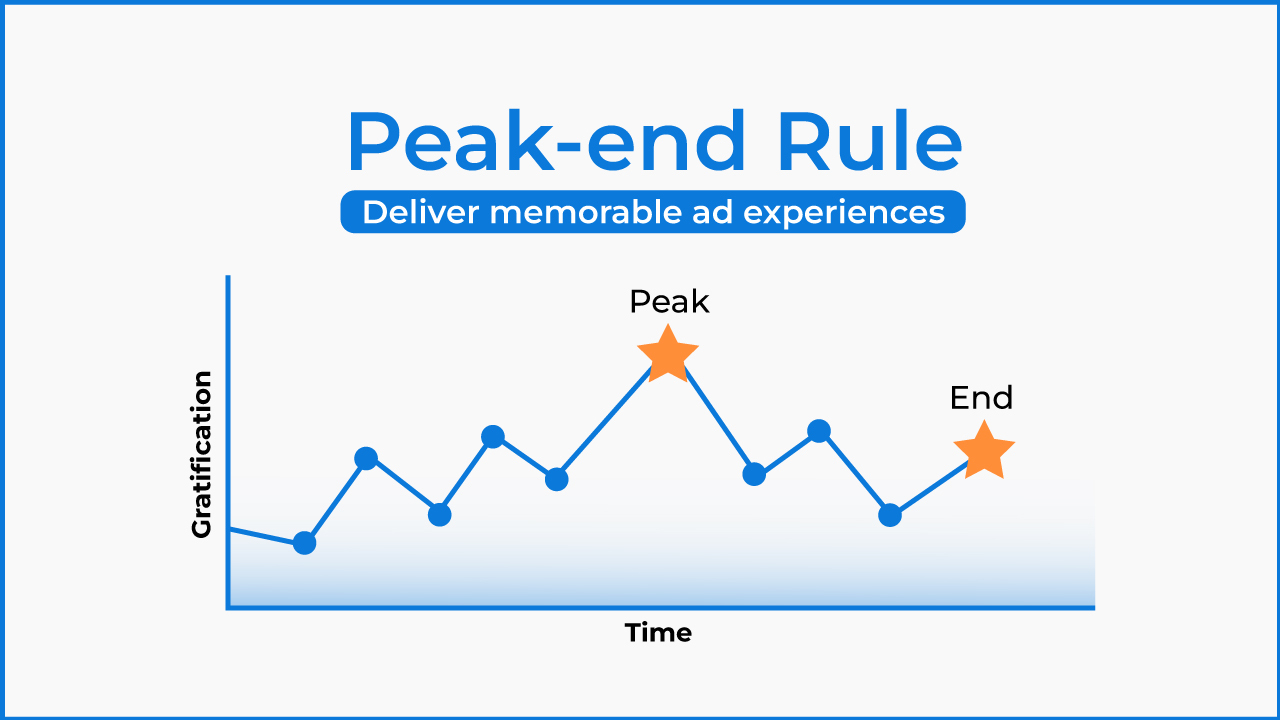 See how revx.io can boost your IPL campaigns.
Shreelaxmi PB